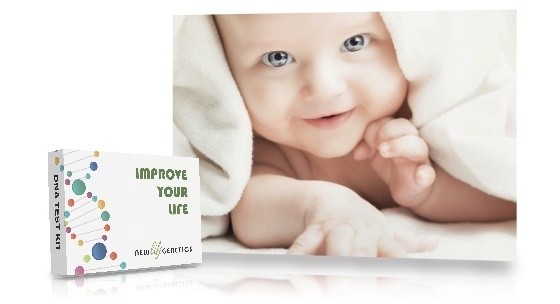 Obtain lifelong knowledge of your child's genetic potential

The latest science and technology in DNA testing

Learn which preventative measures can support your child's health

Get knowledge & tools to power possible weaker genetics
   PRICE  € 249,00 (all inclusive)
DNA testing – kids and babies

Most parents know that the period of child development can be abundant in a variety of health issues, and every health situation, for both the child and parents, creates stress.
This Baby and kids DNA test provides knowledge of these areas of a child's health which deserve special attention. This focuses on a predisposition to allergies, type of immunity, a predisposition to dental caries and a probability of occurrence of certain food intolerances, among others. On the basis of a test defining the most potent genotypes, you will learn how to maximize the health and care of your child. DNA testing your kids is an investment for life.

This genetic testing will give your knowledge on:
Immunity: learn how the resistance to gastric flu viruses shape the susceptibility to intestinal diseases, respiratory system infections (including pneumococcal), throat infections, fungal infections, urinary tract infections and meningococcal diseases. The genetic strength of your child's immune system will not only affect them as a child but determine the precautions they must take throughout life. However, protection against disease is particularly important during infancy when the immune system is developing.
Food intolerances: fructose (found in fruit) and lactose (found in milk) are two natural sugars that many of us consume on a daily basis. However, not everyone is able to digest one of both of these sugars and would experience unfavourable symptoms if they did so. By discovering your child's susceptibility to intolerance, you can take the necessary confirmation steps and – if required – plan a suitable diet and lifestyle for your child to facilitate their food intolerance.
Dental caries: dental health is important for all ages, including infancy and childhood, and it is particularly important to initiate good dental hygiene practices at a young age to build a habit that your child will continue into later life. Your child's DNA influences their susceptibility to hypomineralisation of enamel and tooth decay. Learn how good dietary and lifestyle practice can ensure proper care of your child's teeth.
Allergies: reported allergies are becoming increasingly prevalent in today's society and can often be present in an individual from a young age. Learn whether your child is at risk of allergies, including pollens, dust mites, mold spores and animal fur, and what the potential risk is of your child developing asthma, autoimmune diseases and atopic dermatitis in your child. Find out which preventative steps you can take to lower the chance of an allergy developing, or help to control allergies that are already present.
After the test you will receive the following specific indications:
How your child's variation of the FUT2 gene influences the body's ability to resist pathogens and harmful microorganisms;
Which vaccinations support your child's genetic immunity and can help to prevent future occurrence of disease;
How to increase the resistance to the gastric flu and prevent fungal infections;
Whether your child carries a genetically increased risk to the consumption of fructose – a sugar found naturally in fruits – and how to spot symptoms and signs of intolerance to this sugar;
Your child's genetic susceptibility to intolerance of the milk sugar lactose, and what dietary changes can be made to support a healthy lactose-free lifestyle;
How certain genotypes can impact tooth decay through hypomineralisation of enamel;
Good dental practice that can be adopted to maximize prevention of dental caries and ensure that your child maintains healthy teeth from childhood to adulthood;
How to increase the amount of calcium in the bones of your child and what forms of calcium are most effectively absorbed by the body;
How analysis of the genetic marker gene FCER1A reveals your child's programmed level of IgE antibodies and thus resistance to allergies;
How to recognize early signs of allergies and what action you can take to verify the presence of a particular allergy;
How to alleviate allergy symptoms or delay its occurrence through dietary and lifestyle factors.
KIDS & BABIES DNA TEST  •  Price € 249,00
Simple home DNA saliva test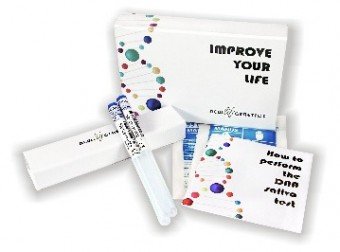 Our DNA testing harnesses the latest technology, and the non-invasive saliva test kit is easy to use, 100% safe, and takes no longer than five minutes. Once the saliva sample has been obtained, simply re-pack into our easy prepaid return envelope and put it in the nearest post box.
Personal genetic test report
After our laboratory has completed this DNA test for your kid or baby, you will receive an e-mail with a link directly to your personal report, which will be password protected. Here you are able to read the report online and you can also download the report to access at any time. Read more about our privacy and security.
Our Kid & Baby DNA test report are at present available in English and Danish.
This report is typically between 12 and 15 pages, depending on the genotype.
Kids DNA test recommended for
Child (+4)


Babies (0 – 3)
•  Free freight included
•  We ship out in 1-2 business days
.   (shipping counties)
•  Test results within 20 days
•  Secure personal test- report
Share this with someone you care about
DNA testing Kids & Babies related tags: Child DNA-test online UK and EU, Childrens genetic test kit for home, Fair costs of DNA test for children. How much does a DNA test for my kid cost? The best genetics health test for babies online.